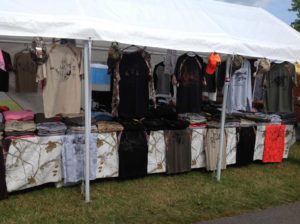 Blueberry Arts Festival in Ely, MN Spring has Sprung and...
Read More
Camo Accent Hunting & Fishing T Shirts
Our Shirts are Designed using Original Artwork, Professionally Screen Printed in Ely, MN.  They feature a small print on the front and large detailed print on the back of the shirt.  We have several Prints to choose from including: Whitetail Deer, Elk Hunting, Bear, Walleye Fishing, Northern Pike, Muskie, Crappies & Sunfish.  We also sell Dri Duck Embroidered Caps. Great Gifts for People who love to Fish & Hunt!
Cocoa Camo Accent Short Sleeve T-Shirt with Deer Hunting Artwork Professionally Screen Printed on the front & back. These Deer Hunting Shirts are constructed with a Moisture Wicking Material making this the perfect choice to keep you warm and dry. Great Gifts for Deer Hunters!
  FREE SHIPPING in the USA!
Embroidered Wildlife Series Caps
Fishing & Hunting Series Embroidered Caps
Snapshots from Happy Customers
This Walleye Shirt was a gift from his mom. She wrote "It looks great next to his Camo Boat & He loves the feel of it!".
This Family that Hunts together stays together!  Here is Mom, Dad, Grandpa & the Little Hunter with matching Shirts!
We would love to post your picture here too! Please share your picture using the buttons below.
Camouflage Accent Deer Hunting & Fishing Shirts
Hand drawn Artwork of Deer & Fish Professionally Screen Printed on Camo Accent Tshirts, Long Sleeve Shirts & Jackets.  Designed in Ely, MN.
FREE SHIPPING in the USA!